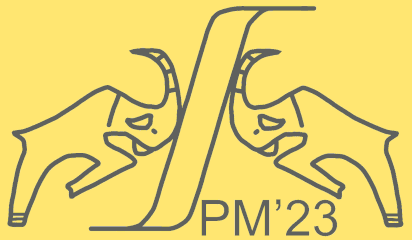 The European Conference
PHYSICS OF MAGNETISM 2023 (PM'23)
In Memory of Professor Roman Micnas
June 26-30, 2023 | Poznań, POLAND
Registration & payment
payment by
April 25th, 2023
payment after
April 25th, 2023
* Only payments in PLN will be accepted.
# All fees are exempt from VAT except companion registration fee which includes 23% VAT.
Registration fee
(includes: conf. booklet, coffee breaks, welcome party, lunches, banquet)
2800 PLN
3150 PLN
Reduced registration fee for undergraduate and PhD students
(includes: conf. booklet, coffee breaks, welcome party, lunches)
1500 PLN
1850 PLN
Reduced registration fee for:

Individual Ordinary Members of EPS
Members of Polish Physical Society
Members of IEEE

(includes: conf. booklet, coffee breaks, welcome party, lunches, banquet)
2600 PLN
2950 PLN
Companion registration fee
(includes: conference booklet, coffee breaks, welcome party, banquet)
900 PLN
1100 PLN
Financial support for young scientists from less developed regions
Young and Brilliant
Information about "Young and Brilliant" session
Registration is open - registration form
Participation of persons with affiliation in the Russian Federation or in Belarus will not be considered.
Payment form. If possible, please use link to payment included in your registration confirmation message, which simplifies payment process.
Privacy policy, payment and cancellation terms
Insurance
Registration fee does not include personal, travel or medical insurance of any kind. The PM'23 Organizing Committee does not take any responsibility for any participant failing to insure.
On-site registration
On-site registration will take place at the Conference Desk. If the registration fee has not been received in advance, the payment increased by 20% should be made on-site by cash.