Deadline for paper submission extdended to 7th September, 2019.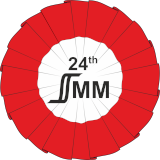 24th Soft Magnetic Materials Conference
September 4-7, 2019, Poznań, Poland
The Soft Magnetic Materials Conference, commonly referred to as SMM, is the largest international conference devoted to soft magnetic materials. Celebrated every two years, in the month of September, it consists of invited, oral and poster presentations which span over a period of three days. This Conference brings together researchers from industry and academia working on all aspects of soft magnetic materials, with topics including, among others, materials properties, applications, device design, fundamental studies in magnetism and simulations. Selected manuscripts presented at the Conference will be published after regular refereeing procedure to ensure originality and scientific quality. Our meeting will be an excellent opportunity for celebrating the 100th anniversary of the Poznan University of Technology (PUT).
Honorary Patronage
Professor Tomasz Łodygowski - the Rector of the Poznan University of Technology
Technical Sponsor


Organizers

Institute of Molecular Physics
Polish Academy of Sciences

www.ifmpan.poznan.pl

Professor Bogdan Idzikowski

Polish Materials Science Society

ptbm.pl




Faculty of Technical Physics
Poznan University of Technology

www.phys.put.poznan.pl

Professor Ryszard Czajka