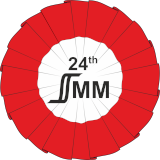 24th Soft Magnetic Materials Conference
September 4-7, 2019, Poznań, Poland
Best Poster Awards
Three prizes will be awarded to the registered young scientists, i.e. PhD students and postdocs, presenting the best posters. During the poster sessions, the jury will choose the winning posters, assessing the quality of the content and its presentation, both on paper and by the presenting author.
To take part in the competition one has to get a tag from the conference office and place it on the presented poster.
The winners will be announced during the Closing Ceremony.
The awards will comprise certificates and the following monetary prizes:
First Poster Prize of 200 Euro (sponsored by the INNOVENT)
Second Prize of 150 Euro
Third Prize of 100 Euro
Best Oral Presentation Award
One prize for the best oral presentation by young scientist will be awarded, according to the similar rules. The monetary prize will be 200 Euro (sponsored by the INNOVENT). All young scientists are eligible.