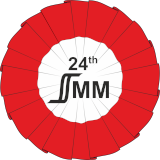 24th Soft Magnetic Materials Conference
September 4-7, 2019, Poznań, Poland
Registration and payment
payment by
27th June 2019
payment after
27th June 2019
Registration fee
(includes: conference booklet, coffee breaks, lunches, welcome party, banquet)
2100 PLN


* 450 EUR

2400 PLN


* 510 EUR

Reduced registration fee for undergraduate and PhD students
(includes: conference booklet, coffee breaks, lunches, welcome party)
1200 PLN


* 250 EUR

1500 PLN


* 320 EUR

Reduced registration fee for:

Members of IEEE
Individual Ordinary Members of EPS
Members of Polish Physical Society
Members of Polish Materials Science Society (PTBM)

(includes: conference booklet, coffee breaks, lunches, welcome party, banquet)
1900 PLN


* 400 EUR

2200 PLN


* 470 EUR

Companion registration fee
(includes: conference booklet, coffee breaks, lunches, welcome party, banquet)
700 PLN


* 150 EUR

800 PLN


* 170 EUR
* Only payments in PLN will be accepted. Approximate fees in EUR and exchange rates are given for informational purposes only.
* Exchange rates are based on euro foreign exchange reference rates from European Central Bank on 2022-07-01 1 EUR=4.71680 PLN.
# All fees include 23% VAT.
Insurance
Registration fee does not include personal, travel or medical insurance of any kind. The 24th Soft Magnetic Materials Organizing Committee does not take any responsibility for any participant failing to insure.
On-site registration
On-site registration will take place at the Conference Desk. If the registration fee has not been received in advance, the payment increased by 20% should be made on-site by cash or credit card.