Scientific Problems
The mission of the Department of Ferroelectrics is:
study of electric and magnetic materials including ferroics nanomaterials, ferroelectrics, multiferroics, ionic and superprotonic conductors by means of high-frequency dielectrometry method and magnetometric methods (VSM magnetometer, AC susceptometer)
characterization of morphology, structure and composition of these materials using electron microscopy (SEM, TEM, SAED, EDS), X-ray diffraction
synthesis of materials and nanomaterials by means of mechanical alloying and microwave activated hydrothermal reaction method.
The general aim of researches is manufacturing of new ferroic and multiferroics materials, getting knowledge about theirs properties, and explaining mechanisms of electric transport in fast ion conductors and polymers.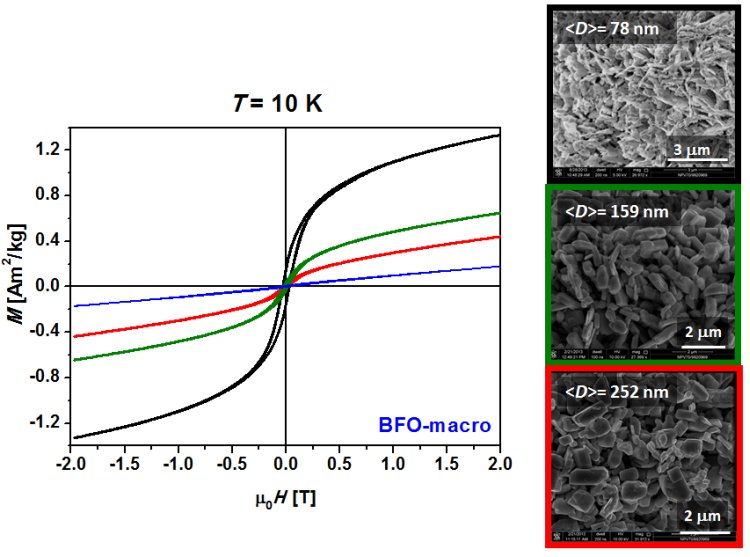 Researches of ferroics including M-hexaferrites Sr(Ba)Fe12O19 and of BiFeO3 multiferroics are aimed at synthesis of new materials (by means of mechanosynthesis or by hydrothermal synthesis) and explaining the influence of morphology and doping with Nd3+, Al3+, Sc3+, … ions on theirs magnetoelectric properties.
The researches concern also magnetic orderings in large systems of magnetic nanoparticles like, for example, Fe3O4@SiO2 magnetite particles in silica shell and investigations of conducting properties of LiMn2O4 doped ceramics.
In the case of fast ion conductors the studies are aimed at getting basic knowledge about electric transport mechanisms, phase transitions and physical properties of new organic compounds like, for example, new ferroelectrics [C(NH2)3]4X2SO4 (X=Cl, Br) or [C(NH2)3]4Cl2SO4 and (NH4)4H2(SeO4)2 crystals. Similar studies are performed for [(CH3)2CHCH2]NHSO4 compound with hyper polarized organic cathions.
Badanie własności elektrycznych i magnetycznych materiałów oraz nanomateriałów ferroicznych, M-heksaferrytów, multiferroików, ferroelektryków oraz przewodników jonowych i superprotonowych metodami wysokoczęstościowej dielektrometrii oraz magnetometrii (magnetometr z wibrującą próbką VSM, podatnościomierz AC), charakteryzowanie: morfologii, składu i struktury tych materiałów za pomocą mikroskopii elektronowej (SEM, TEM, SAED, EDS), dyfrakcji rentgenowskiej, oraz wytwarzanie materiałów i nanomateriałów metodą mechanosyntezy i mikrofalowo aktywowanej syntezy hydrotermalnej.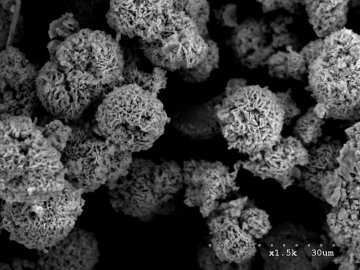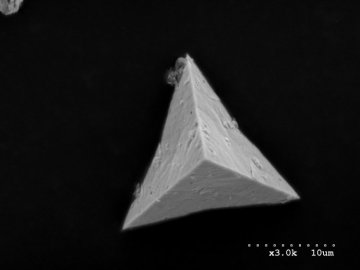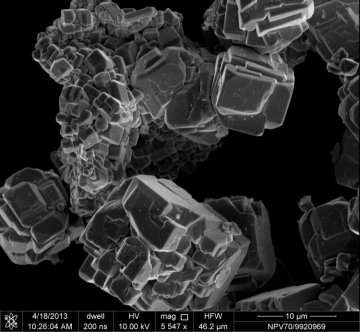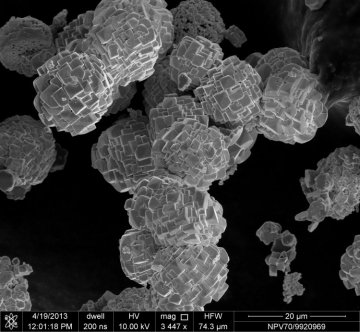 Figs 2-5 Various forms of bismuth ferrite BiFeO3 micro- and nanocrystals (synthesis performed by dr. Katarzyna Chybczyńska).