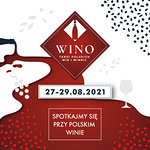 WINE - Polish Wine and Vineyard Fair, where IFM PAN will present its research offer, is a new event organized by the MTP Group, enabling better understanding of the national wine-making.
WINE - The Polish Wine and Vineyard Fair will be open to visitors during the following hours:
Friday, August 27th: 10.00-20.00
Saturday, August 28th: 12.00-20.00
Sunday, August 29th: 10.00-17.00
Details about the Fair can be found on the official website of the event, Facebook profile and Instagram account.
Grupa MTP is a leader among the organizers of exhibition events in Poland and Central and Eastern Europe, which, apart from internationally well recognized business fairs, organizes also congresses, conferences, cultural and sports events, including mega-events, attracting over a million guests from around the world.
www.GrupaMTP.pl
Read more ...